If you are looking for the best quality sod for sale in Utah, look no further than Bulldog Sod. We carry only the finest bluegrass available, which has the ability to hold up to all the harsh weather we see. Our sod farms are spread throughout the Wasatch Front, and we always have a large supply of sod for sale and ready to go, no matter how big your project is. If you are ready to order sod for your home or business today, either give us a call, or request a quote by clicking here.
We Have 4 Convenient Locations!
All of our Utah Sod Farms are located along the Wasatch Front. We service Davis, Salt Lake, Utah, Morgan, and Cache Counties.
BullDog Sod – Utah Sod Installation and Sales
What Can We Do
For You?
Local Sod Produced to
Meet Your Needs
Both residential can commercial properties benefit by improving their curb appeal. A great looking lawn is one of the best ways to accomplish that and, at Bulldog Sod, we are experts at creating the plush look property owners want from their Salt Lake sod. Utah's weather is known for its extremes, and the Wasatch Front is certainly a prime example of an area that experiences those extremes. That means the sod used for your yard must demonstrate the ability to take on those weather conditions and still look good. The sod varieties from bulldog sod are selected to make sure your yard will look good for years to come no matter what Mother Nature comes up with.


Why is Bulldog Sod the
Best Choice?
Research shows the best Utah sod for sale for the Wasatch Front include bluegrass varieties. That's why we focus our efforts on those grasses for our Davis county sod, as we know how well those varieties hold up in our region. Although our bluegrass varieties hold up well to cool, wet conditions, they also resist damage from hot, dry weather. That means, for our rapidly-changing conditions, bluegrass varieties from Bulldog Sod tend to withstand any of the weather commonly seen in the region.
Where is Bulldog Sod
Located?
To better serve our Salt Lake City sod clients, we have many Utah sod farms located throughout the region. To find the sod fields nearest you, simply go to our Sod Field Locations page. The maps are detailed, allowing viewers to easily locate any fields located near their homes or businesses. Each of our fields is also marked with a Bulldog Sod sign to ensure you're at the right place. For prompt service, it's always a good idea to contact us in advance so our staff will be available to assist you. We'll do everything we can to make the process as simple as possible. Bulldog Sod can be contacted easily by phone or email.
What Areas do we
Service?
Our sod experts routinely service Davis, Salt Lake, Utah, Morgan, and Cache Counties. We'll also do our best to offer the best Utah sod for sale to any clients in the surrounding areas as well. All it takes is a quick phone call and we'll let you know if we're able to take care of your sod needs. Our sod is fully capable of meeting the needs of most home and business owners throughout the region.
How Do Property Owners
Get Started?
The first step in having that beautiful new yard is taking careful measurements. While many yards are easy to measure, others present significant issues that require careful calculations to determine the sod quantity needed. If you're having trouble figuring out how much sod you need for a specific yard, check out our lawn size calculator. The calculator provides the formulas necessary to measure virtually any types of spaces you may have in your yard. Finding the area of a circle, for example, is easy when you have the formula. The most important tool here is a measuring tape. With a tape and a calculator, you should have no trouble determining just how many square feet of sod you'll need.

Getting an accurate quote for your project is simple. Just fill in the Get a Quote form and we'll do the rest. All we need is contact information and the number of square feet of sod your project will require. Our products are some of the top Utah sod for sale on the market and we'll make sure your purchase is available to be picked up at the sod field of your choice.
Preparing the Yard for Sod
Properly preparing a yard for the new sod installation is crucial. Any old sod will have to be removed. If there is only spotty grass coverage, you may be able to remove the grasses using common hand tools. If there is too much existing sod, it may be advisable to rent a sod cutter and use it to remove the existing sod. Area rental companies generally have sod cutters available, which will make the preparation much easier.
Once any existing sod is removed, the ground will need to be prepared for the best sod in Utah from Bulldog Sod. We recommend loosening at least the top six inches of dirt using a rototiller. We recommend adding Bulldog Black Magic Soil Enhancer this will help the new sod to become fully established faster. At that point, make sure the surface is level. Low spots should be filled and any high spots cut down to prevent pooling issues during heavy rains. Level surfaces also absorb water more evenly, meaning watering chores will be simplified. Now you're ready to lay the new sod.
Purchase the Bulldog Black Magic Soil Enhancer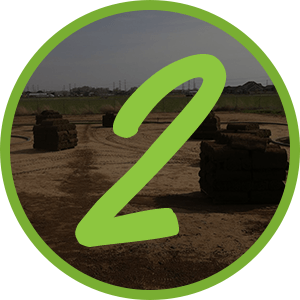 Laying the Sod
For efficiency, find the longest stretch where new sod will be installed and lay a single row of sod there first. Once that line is established, it'll be easier to maintain straight, even rows and avoid waste at edges of the yard. Make sure you use a good, sharp sod knife for trimming as needed. Stagger the rolls of sod so end seams are not in a direct line. Trim carefully around driveways, sidewalks, and flower beds to minimize waste and avoid having to patch areas later. Remember that the faster the sod is installed the better. While two people may be able to install around 1,000 square feet of sod in a day, more hands make the job easier. But don't worry, at Bulldog Sod our Utah sod installation experts take care of everything for you so your lawn will look great.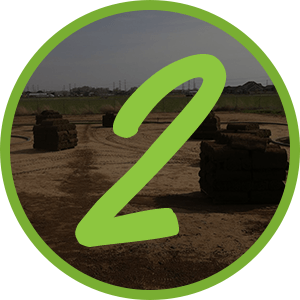 Now What?
Once the sod is installed, the most important thing is to keep it watered. It takes time for root systems to develop, and the sod will require heavy watering until it is well established. We also discuss this issue in our Sod Care Tips section, but it bears repeating here as well. Without water, some or all of the sod will suffer. Brown spots may develop, especially along edges. That means you can't skip watering for even a single day, especially if we're having one of our hot weather streaks.
Would an Irrigation System Help?
The short answer is yes. An irrigation system would simplify not only the initial watering requirements but also ongoing needs. Any irrigation system should be installed by experts prior to installing the sod to eliminate problems later. Local companies are prepared to help home and business owners determine what, if any, types of irrigation systems would best meet their needs.
On-Going Sod Care
Every lawn requires routine care to maintain its healthy appearance. Our Sod Care Tips section provides some good advice for maintaining a new or existing yard, but there are also other ways to enhance a yard's look. Discuss options with local landscaping professionals to determine if additional care would be beneficial. Those providers are also able to assist homeowners who would rather have someone else take care of normal maintenance.
How Much Does
New Sod Cost?
The Utah sod prices are determined by the total square footage of sod required. That's why we're so excited about our helpful measuring guide and quote system that help clients quickly determine their Utah sod prices. You'll know well in advance how much your new sod will cost, which means you shouldn't have any unpleasant surprises along the way. Asking how much does sod cost is never an inappropriate question. We also understand the cost of new sod can be prohibitive if you're on a tight budget, but we can help with that.
Financing is
Available!
Getting the best sod for sale in Utah just got easier, as Bulldog Sod has teamed with Key Bank to offer our clients a unique 15 months 0% interest financing program. That means you can have that new yard now even if your budget is tight at the moment. Simply fill out the credit application and mail, email, or fax it to the lender. It couldn't be easier, and Key Bank promises fast approvals so you don't have to delay your project.
Is New Sod
Worth the Trouble?
Obviously, that's a question each person has to answer themselves, but the majority of people would answer yes. Curb appeal is always important. Even if you're not planning to sell your home anytime in the near future, it's imperative that you're happy with the way your home looks. That means the grass must look nice and be healthy if it's to provide that quality home feel. If you are planning on marketing the property, how a home looks can be even more important. Buyers who are impressed by a home's curb appeal are more likely to make a good offer for the property.
Business owners also enjoy benefits when their properties are well kept and attractive to customers. It's human nature for people to assume that if your property looks good and is well maintained you also run your business the same way. That simply means your bottom line might actually improve if customers are impressed by the sod around your business.
At Bulldog Sod, we understand your project is important, and we'll do whatever we can to make obtaining your sod as easy as possible. With our many sod fields growing the best Utah sod for sale in the Wasatch Front, expertise in the sod business, and dedication to customer service, we know our staff can take care of your sod needs. If you have any questions or concerns, our staff members are always available to help. To have the beautiful yard you've always wanted, get a quote today.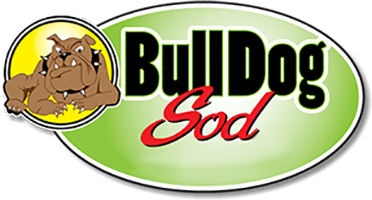 Phone:
(801) 525-1751
Email:
Address:
P.O. Box 606
Layton, Utah 84041
All of our Sod Farms are located along the Wasatch Front. We service Davis, Salt Lake, Utah, Morgan, and Cache Counties. If you live outside of these areas still feel free to request a quote or contact us and we will let you know if we can fulfill your order.
View Our Locations